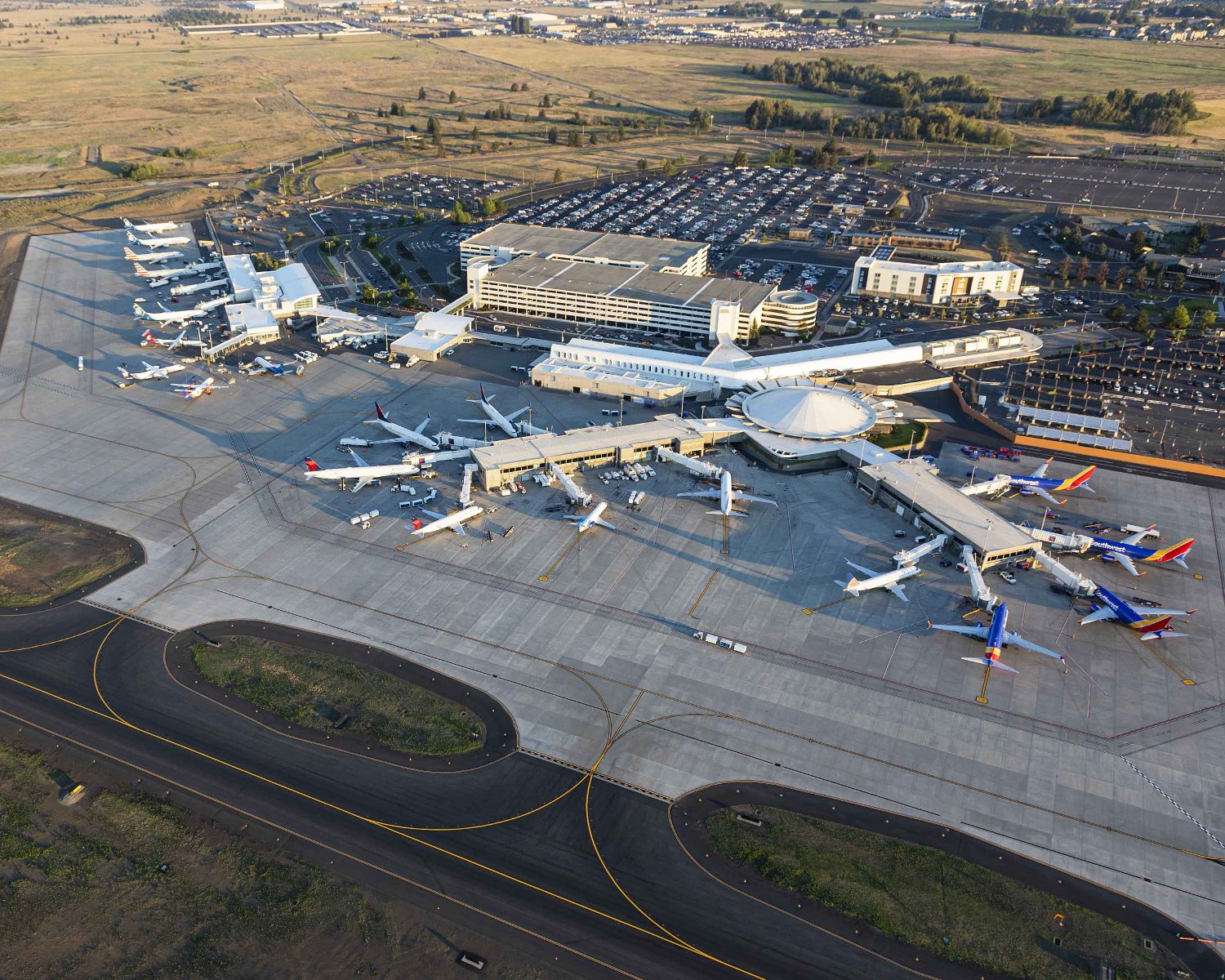 Operation
Spokane Airports is jointly owned by Spokane County and the City of Spokane. The city and county operate the airports under provisions of RCW 14.08, which establishes the operation of airports by more than one municipality under joint agreement. The operating authority of Spokane Airports is the Spokane Airport Board, consisting of seven appointees from the two governmental bodies. The Board annually oversees a capital and operating budget of approximately $118 million from various funding sources.
The Board operates three facilities: Spokane International Airport, Felts Field Airport, and the Airport Business Park, as well as, has a Grant of Authority to operate Foreign-Trade Zone #224. All three facilities are financially self-sufficient from revenues generated from fees, leases and concession agreements. None of the three entities receive, nor are operated with, appropriated tax dollars.
Spokane International Airport is a 6,000-acre commercial service airport served by six airlines and three air cargo carriers. The airport processed nearly 3.3 million passengers and 76,569 U.S. air cargo tons in 2021. It is the second largest airport in the State of Washington and recognized by the FAA as a small hub. The Airport is an employment for over 3,000 people and has important and expanding transportation, logistics and airfield aerospace industry clusters. The Airport has a $3 billion direct and indirect economic impact annually on the Spokane Region.
Capital Improvements
The sale of revenue bonds funded the construction of the airport's two parking structures built in 1979 and 2001. The bond payments are generated from parking revenue. This is the same financial mechanism used to construct Concourse C in 2000. Those bonds were repaid through funds generated by the $4.50 Passenger Facility Charge in a time period of less than 10 years. In 2007, bonds were sold to construct the consolidated rental car facility. The bonds are paid through "Customer Facility Charges" assessed to each car rental transaction. The original terminal building that opened in 1965 was partially financed through bonds
Passenger Facility Charge is a $4.50 fee collected on each departing passenger and those making connections through the airport. Congress established the PFC program in 1990 to allow airports to fund development of facilities to increase capacity, improve safety and security, and reduce noise. The FAA must approve each individual construction project.
Airport Improvement Program is a 7.5% ticket fee collected on each airline ticket. These funds are held in the Aviation Trust Fund and dispensed by the FAA through grants appropriated by Congress.
General Revenues collected from airport-generated activities such as concession programs, lease agreements and parking fees.
Financing
Spokane International Airport maintains a residual budget agreement with the airlines serving this market. Under this agreement, the airport deducts from its total annual budget all revenue from non-airline sources. The airlines then are responsible for payment of the remainder (residual) amount, and the rates are set accordingly. The commercial operators and tenants pay rental fees, landing fees, and concession fees (a percentage of gross revenues).